In Class Assignments For College Students
As we mentioned in the June 28 and July 5 posts, during the opening keynote at The Teaching Professor Conference, Elizabeth F. Barkley, a professor at Foothill College and author of Student Engagement Techniques: A Handbook for College Faculty (Jossey-Bass, 2010) presented on a topic she titled Terms of Engagement: Understanding and Promoting Student Engagement in Today's College Classroom.
At the conclusion of the session, she asked attendees to write on a note card one or two ways they promote active learning in their classrooms. As you can imagine, the exercise generated hundreds of great ideas; which we will continue to share during the next couple weeks. We encourage you to add in the comment box your own strategies for engaging and motivating students.
Here are more student engagement tips from attendees:
Getting students involved and making learning their own: I use a participation portfolio that students can choose the things they want to include. They collect/include any item that includes an aspect of American government (political event, election, school meeting, current event, etc.) From this, students see how they can be involved in their learning (and their government)
---
Task assignment: Oral presentation (10 minutes, 3-5 good sources) on a topic related to what will be on next exam. Very experienced, knowledgeable students are challenged by how to make their knowledge clear, to the point, and related to our course topic. Very weak students are challenged by finding 3-5 "good business sources," e.g., Wall Street Journal, Business Week, NYT, etc.
---
When students have a major project, I expect and plan time for them to submit it for feedback before they submit it for a grade—it promotes a "safe" environment and an expectation for success.
---
I divide the class into a number of groups and they work on problems together. Then they can share with others in class.
---
I teach business communication; in class one, I ask students to think of a real example of a positive and a negative communications experience. Then we analyze their examples.
---
Conflict management: Assign students to think of one difficult person they have interacted with who causes tension or conflict. Task is to take one insight from the basic communication course and do one thing different in the next encounter with this person. They submit a brief report on the result. The assignment is due in 4-8 weeks to give students ample time to plan and reflect.
---
Test often. It keeps them motivated and builds students' confidence.
---
Put the student in the shop and have them try their new skills
---
Make what is being taught relevant to the students' lives. Example: Teaching about percent concentrations in chemistry, talk about DUI and percent alcohol in blood in determined and calculated.
---
To create a vision of real-life experience based on learning certain skills in management.
---
Tell students how the material will relate to their futures; use real world examples/documents.
---
Hands on learning: Practical experimental learning. Doing the tasks or following the lecture online or using a computer as the lesson/lecture is done or taught.
---
Balance grade point totals between multiple categories (exams, cases, lead class discussion, current event, worksheets, etc.). This allows students who don't excel in one area to make up ground in another.
---
When composing homework assignments, I combine questions of varying difficulty. I ultimately include a problem or two beyond the difficulty required for my course and offer extra credit for solving these problems. The number of students that choose to step up to the challenge is so incredibly refreshing and motivating.
---
Active Learning: Independent laboratory projects are the best way I have found to promote active learning.
---
What do you do to help students value what they are learning? Take the mystery of the reason out of it. In other words, I let the students into the conversations in higher education about why we do what we do and what we hope they get out of it. Then I ask them what we can change for them to get out of it what we hope.
---
Motivation: Find a "hot issue" and use that to get students to formulate solutions and evaluate responses to solutions. Example: Nobody is happy paying sales taxes. Would you abolish taxes? How will you make up the money lost is sales taxes are abolished?
---
Active Learning: After working through the concepts, I give students random objects. In groups they draw analysis to the concepts connecting the ideas and sharing with their group members.
---
Motivation: The instructor indentifies a variety of assignments that meet the objective and that provides for different learning styles of students from which students may choose.
---
Pull something out of a website from today's financial markets and link it to something we will talk about today and have the students tell us how that link can be used to help in their career quest.
---
When teaching graduate students how to teach online, I encourage them to consider face-to-face methods that are effective for certain topics and use parallel/similar techniques online, such as small group discussion or think/pair/share. These techniques can be effective online as well.
---
Expand what appears on a PowerPoint slide and ask students to refute it.
---
For motivation, my version of a "wildcard" assignment in my American Literature class: Pick one of the following: digital storytelling, paper (critical, pedagogical—for my pre-service teachers), creative), American literature game, or poster. But each one requires critical reflection.
---
To increase expectation of success: Because I know how difficult it is for students to remember everything they have learned and/or studied for a test, I offer some choice items (fig., choose A or B) so they can show what they know.
---
Community—I do team-building exercises at the beginning of the semester.
---
Active learning: Have students take responsibility for their learning by applying lesson concepts to their occupations, field of expertise, and personal experience.
---
Model these attributes in everything I do (from day 1); if I am enthusiastic, clear in my expectations, and believe the value of what we're doing, they will be more engaged.
---
"15 Minutes of Fame": The student gets to choose a topic they feel they could teach the class (for 15 minutes), they become the expert with certain guidelines to follow. Motivation—they are the "star" for 15 minutes. Active learning—they research. Task—they choose the topic. Community—they all practice with each other to get feedback before their 15 minute presentation. Holistic—they learn all types of things; respect, confidence, professionalism, body language, etc.
---
To develop a class community, I ask students to post a blog entry on-line (campus topic) and read other posts and comment. I have the students use their names.
---
Be positive and available. Have a form for the first day of classes asking students questions to ascertain how they came to a Post-secondary Institution, such as; Were you asked to be here? (By your parents), How do you feel about being here?
---
Motivation: Offer one question thrown out on quiz for "classroom" 100 percent attendance. "Stickers" to reward "A's."
---
I have 8-10 guest speakers come in.
---
I have 2 group assignments to go out and interview experts in industry for presentations.
---
Active learning: In a writing course, students receive each others drafts throughout the semester and one by one the whole class peer reviews the drafts. Students learn from other student papers and gain critical feedback on their own paper. In other words, every paper is read by every student, and every student must provide feedback.
---
For community & challenge: I use team service-learning projects in which students work on real organizational tasks which are challenging.
---
Public Speaking—End of the semester speech competition: all completed outside the regular class time. Motivation—Winning class does not have to take the final. Work as a community—The whole class has to contribute; vote on class speakers, visual and preparation outline, etc.
---
Community/Motivational Task: Visiting, via field trips, museums, during a class on Foundations in Bilingual Education or Methods of Teaching Social Science.
---
Sense of Community: I use "team-based learning" in my intro courses.
---
Holistic learning: So important to have students reflect on a learning experience and talk about how it felt (what we their emotions?) and how they might do things differently.
---
After presenting a concept, I summarize by asking students to think (and share) these about the concept: Who cares? Why do they care?
---
Motivate: Start each class with a "hook"—something that is contextual and related to the day's concepts—provides relevancy and captures interest and involvement.
---
Motivation—Self motivated. Active Learning—Presentation (group). Task—Never Presented before. Community—Form groups 4-5 students. Holistic Learning—All applied info evenly.
---
I tell my students that I learn from them even as I teach. Learning is a shared activity. We are a community of seekers traveling toward a goal of knowledge.
---
Value: Speaker from related career speak on the outcome of education.
---
Motivation & Active Learning: To teach costume history, I had students write about why they wear clothes and why change certain items, compared to an appropriate moment in history.
---
I engage students to choose a concept from the course and teach a segment of the class.
---
Use short appropriate videos (expectancy) and tie it to a career (value) strategy.
---
Get the class to teach itself a concept/jigsaw.
---
With 40 students, divide into 8 groups of 5. 20 minute study sessions, with materials provided, then a 10 minute presentation from each group, followed up with a 10 minute debrief.
---
I start with an activity that will captivate their attention.
---
Get students to take ownership of their own learning. Provide them with projects and subject matter that connects to them personally. Show them how their knowledge can impact the world.
---
Motivation: Emphasize constantly how the new knowledge will serve them in their future.
---
Work optimally, feel valued, and learn holistically. I set the students up as instructors. They choose a brief lesson in a particular technique. They then present to the class, then the school.
---
Motivation: Had students act as ambassadors. They go promote the department and in doing so, realize why they like it.
---
Motivation: Since I am aware that "I" cannot "motivate" anyone, as motivation comes from within oneself and since I teach medicine, I always and continually remind my "medical students" that patients will be putting their lives in their hands and they deserve to be seen by a competent provider.
---
Teaching a skills lab (hands on) in learning to examine to different use of the knowledge.
---
Active Learning: Use real life examples (personal case studies) to relate students to students to learning.
---
Motivation: Don't put deadlines on learning. If a student learns yesterday, tomorrow or in two weeks, the grade is the same.
---
Value: Have students negotiate evaluation methods (test & assignments) based on learning outcomes for the course.
---
Community: I give students a questionnaire to fill out on day 1 & then the 2nd week, put them into groups of 3-4 students with similar goals & backgrounds. They sit in their groups in class & during class, do problem solving exercises together. They help each other and learn from each other.
---
Measureable results: Apply task initially and again in 8 weeks, then they are graded on the growth.
---
Showing students how the subject relates to 'real life' is a real motivator. I use examples from TV shows and the news to drive the point home.
---
Take students' pictures 1st day of class and memorize their names. Call students by name from the 2nd class on. Use their names frequently. This instills community and aids in engagement because students cannot hide.
---
Enhance value and therefore motivation by applying concepts to current and actual problems form the students' live. It works well in Psychology of Learning and Motivation and Emotion courses.
---
Always find a means to connect content with everyday things. While difficult for everything, very effective for the ones you have. I am an ecologist, so anecdotal stories go miles. Students love it.
---
Motivation: Excitement/Passion. If I present my subject matter with passion and excitement (show my passion and excitement for biology), students (not all, but some) have commented that this gets them excited about biology and motivates them to learn about it too.
---
Got a tip? Please share it below.
Posted in Effective Teaching Strategies
Tagged with active learning, building student engagement, Effective Teaching Strategies, student engagement
How interactive are your classroom activities? Do you have less energy for class than you used to?  Do you find student grades declining semester after semester? Are the teaching strategies you've always relied on not working as well as they once did?
A few weeks ago, one of my worst nightmares came true while teaching a summer session introductory course, and it made me ask these questions of myself. I found myself talking, and talking, and talking, and nobody was engaged. Even the "good students" seemed to have had enough.  No one was taking notes; no one even appeared to be thinking about the material. They had just had it. Now, it was a Monday, and it was early, and it was hot in the classroom, but this was unusual.  And since it was a summer course, I had another three hours to fill.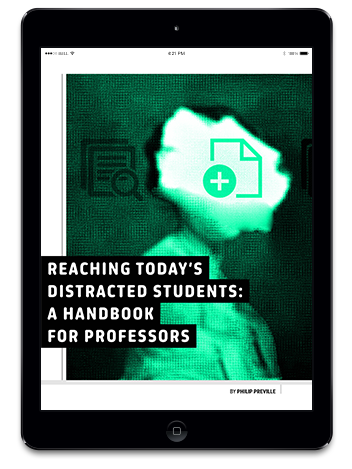 It's not just you—classroom engagement is at an all-time low.
Learn effective strategies for keeping your class focused in our free handbook, Reaching Today's Distracted Students ❯ ❯ ❯
After sending my students off for coffee, sugar, or fifteen minutes of fresh air, I found myself thinking of a couple of my senior colleagues, who always seem frustrated with their students' classroom demeanor. I always assumed we just had different teaching strategies, but now I began to wonder if the real root of the cause may have to do with some instructors' failure to adapt to today's students.
In my thirties, I could still find a lot of similarities with my twenty-something students. But now, in my forties? Not so much. What I've started to realize is that it isn't just the little things, like whether they've seen Ghostbusters. (They haven't.) It's the big things, like how they learn. These students, for the most part, had vastly different high school experiences than I did. This is mostly due to advancements in technology, but also to evolving philosophies and paradigms that have emerged alongside technology.
My six-year-old son doesn't find iPads amazing; to him, they've always just existed. Similarly, to a lot of students today, experiences like team exercises and flipped classrooms, while foreign to many instructors, are not new. If we care about reaching today's students, who seem to have a different idea of student responsibilities than we had, perhaps we have to reach them on their terms.
Navigating the digital divide
But here's the problem. Remember Wayne's World?  (Your students don't). One of my favorite movie quotes ever is spoken by Dana Carvey's character Garth: "We fear change." These three little words explain a lot of the things that have frustrated me as an educator for the past fifteen years. What I realized this summer, however, is that these three words explain me as well! I don't want to change how I teach because students are differently prepared today than in the past. I'm afraid of changing things that have been working for me. Simple as that.
It was that last thought that led to my recent epiphany. How well are things really working if exam grades go down every semester? How well are things working if I find that I'm more tired at the end of lecture than I used to be, or that I have less energy during it? How well are things working if the students aren't paying any attention? Knowing when it's time to shake things up is a significant challenge; but once you're ready, here are four teaching strategies you can use.
At first I'd prepared these activities in case I needed to fill some time, but I've realized that planning to use interactive classroom activities intentionally can really transform the learning dynamic. Here are 4 to get you started:
Open-ended questions

This doesn't take any planning.  All it takes is a class with at least one student who isn't too shy. I remember a class a few semesters ago that started with nine students. Due to a couple of medical conditions and a job opportunity, three of the students had to drop during the semester.  The problem was that these three students were the ones I counted on to ask questions and keep the class lively!  Once I was left with six introverted people, conversations during class seemed to stop.

By luck, I stumbled on something that got the students talking again.  I said, "What has been the most difficult thing about [the project that was due soon]?" This opened the floodgates—students love to complain, especially about us and our demands. This one simple question led to twenty minutes of discussion, involving all six students. I wasn't even sure what a couple of these students' voices sounded like, but once I gave them an open-ended opportunity to complain about an assignment, they were off to the races.

What's wrong with this example?

Students also love to find a professor's mistakes—like me, I'm sure you've found this out the hard way. I teach computer science, so I will make up a program that, for instance, performs the wrong arithmetic, and have students find the bug. In a particularly quiet or disengaged class, you can incentivize students with five points on the next exam, or something similar. If you teach history, you might use flawed examples that change a key person's name, such as "King Henry VIII (instead of King John) signed the Magna Carta in 1215," or match a person to an incorrect event: "Gavrilo Princip is considered to have fired the first shot in the Spanish Civil War (instead of World War I)." Beam these examples on the whiteboard, and let the students' competitiveness drive them to get the right answer before their classmates.

Let students critique each other

This can go badly if you don't set some ground rules for civility, but done well, it can really open a class up. One of my colleagues devised a great exercise: First, give students about half of the class time to write instructions that an imaginary robot can understand to draw a recognizable picture, like a corporate logo, without telling students what will happen later. Then assign each student's instructions to a randomly-chosen classmate, and have the classmate pretend to be the robot, attempting to follow the instructions and draw the same logo.

After a few minutes, call on a specific student to share their results with the class, then ask their partner to share the initial instructions.  This method gives students a chance to communicate with each other—That's not what I meant!—and laugh, and bond, while learning an important lesson. This exercise teaches computer science students the difficulty and importance of writing clear instructions. I have seen this exercise not only teach pairs of such students meaningful lessons, but encourage friendships that extended beyond my classroom.

Embrace technology

I know how some of you will want to react to the idea of learning about new technology to use in the classroom. "Easy for you to say! You're young, and you teach Computer Science!" You don't have to say it; my colleagues already have. But technology is here, and it isn't going away. Computers and the Internet are as natural to our students as a blackboard is to us. Using the tools they find in their world can help students to feel more comfortable in class, which can help them open up and interact.

I have heard colleagues of mine recommend the use of student engagement systems like Top Hat in their classes. Even Twitter can be used to improve student interaction. Since you and your students are probably already coming to class with laptops, tablets, and/or smartphones, digital tools like Twitter and Top Hat are easy to roll out and adopt. Some professors use edtech like Top Hat to ask multiple-choice questions during class to gauge student understanding and harness students' attention. Others use Top Hat or Twitter as a way for students to provide feedback during class without having to raise their hands or speak out loud.
Interactive classroom activities in short
Making your classes more interactive should help your students want to come to class and take part in it. Giving them a more active role will give them a sense of ownership, and this can lead to students taking more pride in their work and responsibility for their grades. Also, many people tend to learn better by doing than by watching or listening.
A more interactive class can also make things easier for you–the more work students do in class, the less you have to do. I'm not telling you to be lazy; I'm telling you to use your time wisely. Even two minutes of not talking can re-energize you for the rest of the class.
These 4 methods outlined above don't require any large-scale changes to your class prep. Set up a couple of activities in advance here and there, to support the stuff you've been doing, and plan which portion of your class will feature them. This small investment of your time should result in making everyone happier to be in the classroom.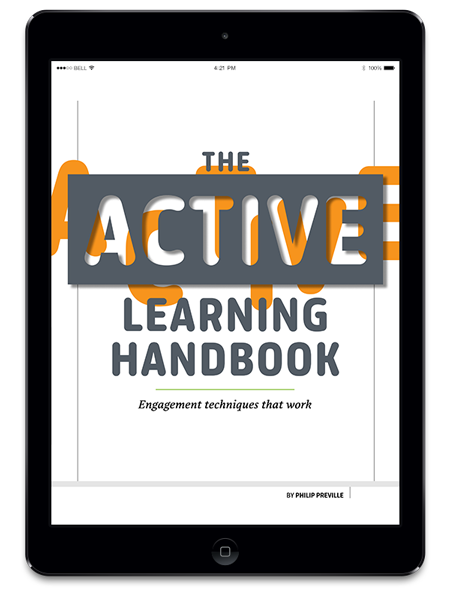 Ready to make your classroom a lot more interactive?
Learn practical techniques from innovative professors in our totally free Active Learning Handbook ❯ ❯ ❯
---

Chris Merlo