The Case Study Houses were experiments in American residential architecture sponsored by Arts & Architecture magazine, which commissioned major architects of the day, including Richard Neutra, Raphael Soriano, Craig Ellwood, Charles and Ray Eames, Pierre Koenig, Eero Saarinen, A. Quincy Jones, Edward Killingsworth, and Ralph Rapson to design and build inexpensive and efficient model homes for the United States residential housing boom caused by the end of World War II and the return of millions of soldiers.
The program ran intermittently from 1945 until 1966. The first six houses were built by 1948 and attracted more than 350,000 visitors. While not all 36 designs were built, most of those that were constructed were built in Los Angeles, and one was built in San Rafael, Northern California and Phoenix, Arizona each. Of the unbuilt houses #19 was to have been built in Atherton, in the San Francisco Bay Area, while #27 was to have been built on the east coast, in Smoke Rise, New Jersey.
A number of the houses appeared in the magazine in iconic black-and-white photographs by architectural photographer Julius Shulman.
List of Case Study Houses[edit]
Number
Name
Architect(s)
Publication
Constructed
Status
Address
City
Arts & Architecture
PDF link
Virtual Globetrotting
link
1
J. R. Davidson
February 1945
1945
Unbuilt
CSH#1
1
J. R. Davidson
February 1948
1948
Extant
10152 Toluca Lake Avenue
North Hollywood
CSH#1
VGT
2
Sumner Spaulding and John Rex
August 1947
1947
Extant
857 Chapea Road
Pasadena
CSH#2
VGT
3
William Wurster and Theodore Bernardi
March 1949
1949
Demolished
13187 Chalon Road
Los Angeles
CSH#3
VGT
4
Greenbelt House
Ralph Rapson
September 1945
1989
Exhibit: Museum of Contemporary Art of Los Angeles
CSH#4
5
Loggia House
Whitney R. Smith
April 1946
Unbuilt
CSH#5
6
Omega
Richard Neutra
October 1945
Unbuilt
CSH#6
7
Thornton Abell
July 1948
1948
Extant
6236 North Deerfield Avenue[1]
San Gabriel
CSH#7
VGT
8
Eames House
Charles and Ray Eames
December 1949
1949
Extant
203 Chautauqua Boulevard
Pacific Palisades
CSH#8
VGT
9
Entenza House
Charles Eames and Eero Saarinen
July 1950
1949
Extant
205 Chautauqua Boulevard
Pacific Palisades
CSH#9
VGT, VGT
10
Kemper Nomland and Kemper Nomland, Jr.
October 1947
1947
Significantly Altered[2]
711 South San Rafael Avenue[3]
Pasadena
CSH#10
VGT
11
J. R. Davidson
July 1946
1946
Demolished
540 South Barrington Avenue
West Los Angeles
CSH#11
12
Whitney R. Smith
February 1946
Unbuilt
CSH#12
13
Alpha
Richard Neutra
March 1946
Unbuilt[4]
CSH#13
15
J. R. Davidson
January 1947
1947
Extant
4755 Lasheart Drive
La Cañada Flintridge
CSH#15
VGT
16
Rodney Walker
February 1947
1947
Demolished
9945 Beverly Grove Drive
Beverly Hills
CSH#16
17A
Rodney Walker
July 1947
1947
Extant
7861 Woodrow Wilson Drive
Los Angeles
CSH#17
VGT
17B
Craig Ellwood
March 1956
1956
Remodeled Beyond Recognition
9554 Hidden Valley Road
Beverly Hills
CSH#17
18A
West House
Rodney Walker
February 1948
1948
Extant
199 Chautauqua Boulevard
Pacific Palisades
CSH#18
VGT
18B
Fields House
Craig Ellwood
June 1958
1958
Remodeled Beyond Recognition
1129 Miradero Road
Beverly Hills
CSH#18
VGT
19A
Don Knorr
September 1947
Unbuilt
CSH#19
20A
Stuart Bailey House
Richard Neutra
December 1948
1948
Extant
219 Chautauqua Boulevard
Pacific Palisades
CSH#20
VGT
20B
Bass House
C. Buff, C. Straub, D. Hensman
November 1958
1958
Extant
2275 Santa Rosa Avenue
Altadena
CSH#20
21A
Richard Neutra
May 1947
Unbuilt
CSH#21
21B
Walter Bailey House
Pierre Koenig
February 1959
1958
Extant
9038 Wonderland Park Avenue
West Hollywood
CSH#21
VGT
1950
Raphael Soriano
December 1950
1950
Remodeled
1080 Ravoli Drive
Pacific Palisades
CSH1950
VGT
1953
Craig Ellwood
June 1953
1953
Extant
1811 Bel Air Road
Bel-Air
CSH1953
VGT
22
Stahl House
Pierre Koenig
June 1960
1960
Extant
1635 Woods Drive
Los Angeles
CSH#22
VGT
23
Triad
Killingsworth, Brady, Smith & Assoc.
March 1961
1960
Extant (23A and 23C), 23B Remodeled Beyond Recognition[5]
2329 (C[6]), 2342 (A[7]) and 2343 (B[8]) Rue de Anne [9]
La Jolla
CSH#23
VGT
24
A. Quincy Jones and Frederick E. Emmons
December 1961
Unbuilt
CSH#24
25
Frank House
Killingsworth, Brady, Smith & Assoc.
December 1962
1962
Extant
82 Rivo Alto Canal
Long Beach
CSH#25
VGT
26
Harrison House
Beverley "David" Thorne
January 1963
1963
Extant
177 San Marino Drive
San Rafael
CSH#26
VGT
27
Campbell and Wong
June 1963
Unbuilt
CSH#27
28
Case Study House #28
C. Buff and D. Hensman
September 1965
1966
Extant
91 Inverness Road
Thousand Oaks
CSH#28
VGT
Apt 1
Alfred N. Beadle and Alan A. Dailey
September 1964
1964
Extant
4402 28th Street
Phoenix, Arizona
CSApts#1
VGT
Apt 2
Killingsworth, Brady, Smith & Assoc.
May 1964
Unbuilt
CSApts#2
Notes[edit]
Further reading[edit]
Entenza, John (January 1945) "Announcement: The Case Study House Program". Arts and Architecture
McCoy, Esther. "Case Study Houses". 2nd edition. 1977, ISBN, Hennessey & Ingalls
Smith, Elizabeth A. T. (1989). Blueprints for Modern Living: History and Legacy of the Case Study Houses. Cambridge: MIT Press. ISBN. 
Smith, Elizabeth and Peter Goessel (2002). Case Study Houses: The Complete CSH Program,. Taschen. ISBN. 
Smith, Elizabeth A. T. (2007). Case Study Houses. Taschen. ISBN 978-3-8228-4617-9. 
Travers, David (January 2007) "About Arts & Architecture" Arts & Architecture website - accessed March 3, 2009
External links[edit]
The Case Study House #23 stands out from the other houses of the Program as it consists of a three-house project. All the houses were designed by the architects Killingsworth, Brady and Smith and have been conceived as an organic project that took in the consideration an integrated environment.
Of course the main concern during the design process was to closely relate the three houses. That is why the siting -and the relations between houses- has been carefully considered as well as materials, forms and landscaping.
The architects designed a common driveway that reached a large parking space above the houses and also made possible a seventy feet space between all of them; in case the families needed more privacy.
The three plans of the Case Study House #23 were designed to allow the family members to have a 'perfect circulation' which means access from a central entry to each room without the need of crossing other ones.
There are several elements in common across the plans.
The ten foot high doors enter a hall -the entrance- that overlooks two small courts floored as the reflecting pool to give a sense of continuity with the outside.
As many other case study houses, this project also has living rooms overlooking the outside, inviting to an outdoor living.
The bright master bedrooms also have access to a panoramic view and include separate spaces for bathing and dressing. In particular, the House A has a glass door in the bathroom -part of a glass wall- that provides direct access to the sunbathing garden and ease even more the access of natural light.
Kitchen and children's rooms were designed apart from the core of the house. In particular, the children's rooms have a dedicated direct access to the play yard. In the House C, one of them was designed in a way that could be later converted in a studio if needed by the family.
The Case Study House #23 – House A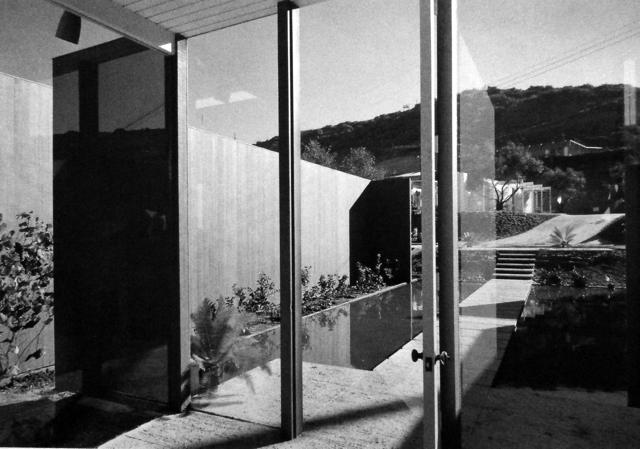 The Case Study House #23 – House B
The Case Study House #23 – House C
The pics of this article come from the must have book Case Study Houses, a must have for all the modernist architecture enthusiasts.
READ MORE
Tags:review, the case study houses program